Your wedding ceremony decorations are a reflection of you as a couple, they speak to your personal taste and style. Most importantly they are a part of making your special day as memorable to eveyone else, as it will be to you. Decorations may not be a big deal to some, but you know just how important creating the right atmosphere for your wedding really is. If you approach wedding ceremony decorations with that in mind, you'll already be ahead of the curve for bringing it all together.
Give your Wedding Ceremony Decorations Flair!
Your special day is approaching and you are trying to decide what to do about wedding ceremony decorations. Whether your ceremony will be in a church, a garden or in your own backyard, your decorations will be essential for creating an atmosphere your guests will remember. Since there are really only two choices to make as far as where the ceremony will be, indoors or outdoors, lets start there and discuss the differences in decorating each type of venue.
Get ideas for wedding pew decorations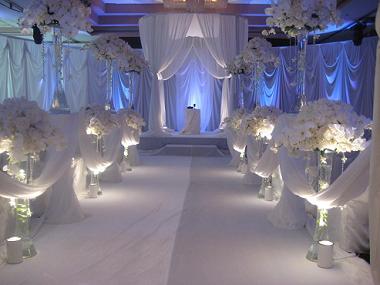 image via my-weddingdream.com
This all white, orchid design is a perfect example of how even a plain space can be transformed for your ceremony. This is where a wedding design professional can really be useful.
Tips for Decorating your Outdoor Venue
Decorating for an indoor wedding is fairly easier since there isn't the worry of weather conditions, but an outdoor wedding has a special magic, all it's on. Depending on the venue, there will be a specific policy on decorations. Here are some ways to make decorating outdoors much easier.
Make sure of what you are allowed to beforehand and plan accordingly. If you and your bridal party will be decorating on your own, be sure to come equipped with all the materials you will need, and have your plans in writing for your helpers to follow.
Use props or stand-alone type items that can be set-up and broken down easily. Your wedding arch is one example, and columns are also an appropriate choice.
If you are planning to drape fabric or some type of garland as wedding aisle decoration you may want to use shepard's hooks or stanchions, to keep from damaging the lawn at your ceremony venue.
Decorating Indoors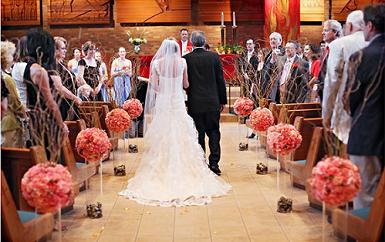 image via Church4Wedding.com
Decorating indoors, say in a church or wedding chapel doesn't have to be a challenge. As I've mentioned before, most churches and chapels have a strict decorating policy, especially when it comes to things like tacks, tape and glue, but there are many ways around these types of restrictions. Along with items like the free-standing columns mentioned above, here are some great items to use for indoor decorations;
Tulle-this gauzy material is great for draping in between pews, and makes fabulous ceiling decoration for the really ambitious.
Candles-floating candles in cylinder vases look gorgeous coming down the aisle. Steady and center the candles using sand rocks or decorative glass beads or cubes.
Floral Mesh-found at most craft or floral supply stores, this nylon mesh can be used to create outstanding wedding arch decorations. Simply wrap it around the arch you want to decorate and add flowers or beads to finish the look.
If possible, choose a venue that offers an area for your bridal party to dress on site. This will make things a lot less stressful if you are decorating yourself. Be sure you will be able to enter the venue well beforehand so that you have ample time to complete your wedding ceremony decorations.
Return to home from wedding ceremony decorations

Go to wedding reception decorations page

Need more wedding decorations ideas?

Get simple and elegant wedding arch decorations

Create your own wedding backdrops