Make a dramatic statement with your wedding centerpieces! Whether it's lush floral arrangements or modern, sleek designs using non-floral elements, you can have centerpieces that rock!
Even without a major budget, you can create something unique and classy, that will accent, not overpower your overall wedding table design.
I'll show you some of my favorite shortcuts to getting the centerpieces you've dreamt of, and share a few tips on cutting some of the stress away from planning this important wedding reception element.
Quick Tip:
Rent fancy vases in shapes and colors that may be too impractical to buy. You're not going to be using them afterwards anyway. You'll have to put down a deposit, but as long as you get them back undamaged, you'll get that back when you return them.
Don't throw your budget out the window!
Many popular wedding flowers are gorgeous and elegant, but trying to create your centerpieces with these flowers means taking out a second mortgage!
Less expensive flowers may get a bad rap, and seemingly everyone looks down on them as wedding flowers, but even the lowly carnation and baby's breath can be made into stylish and pretty wedding centerpieces.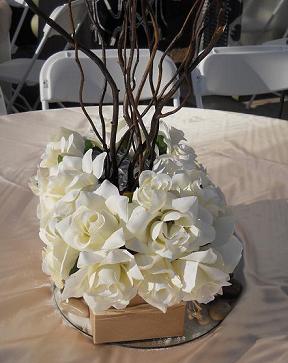 These flowers look real, but they aren't!
One trick for cheap wedding flowers
:
When using less expensive flowers is to go for monochrome arrangements, tightly grouped together, preferably without a lot of filler. This type of design is called pave', just like the jewelry technique, and carnations are arguably the best flower around for these types of arrangements. The best part is that anyone can create these types of designs, without too much of a learning curve.
Even baby's breath is making a big comeback as a creative alternative to expensive wedding flower arrangements. It's no wonder. A huge bouquet of these tiny flowers grouped in the right vase can be a stunning arrangement. And for country weddings, a few sprigs of baby's breath in milk bottles can make cute wedding centerpieces, that are chic and cheap!
Grouped centerpiece arrangements
Bunch centerpieces together or spread them out, either way multiple arrangements are a hot, hot trend. You can take several shades of the same color and do an arrangement in each one. You can also make the centerpieces more interesting by making each one different heights, or putting one or two of them on a riser.
Searching for unique wedding centerpiece ideas?
Instead of using flowers or candles to accent your wedding tables, why not choose board games? Some great ideas are Jenga, Scrabble, Yahtzee or Monopoly.  This way people who don't want to dance will have something to do after dinner, and this is a great idea for bringing people together at your wedding reception.
Make it an artful display using risers, which can be made with anything and covered with a decorative fabric. Use other game elements like cards, dominoes or dice to throw around as table decorations. Table escort cards or menus can be replace by score sheets after dinner.
Get wedding table decorations and more...
Get more easy centerpiece ideas
Return to home from wedding centerpieces
Or...get more wedding centerpiece ideas and tips