Create an Amazing Wedding Backdrop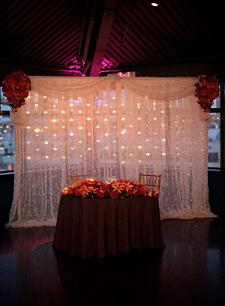 Want to create a special and unique wedding backdrop for your wedding ceremony or reception? You don't have to be a professional to create one, so don't worry. Any bride with a bit of creativity can come up with something extrodinary, sure to wow your guests.
Before you begin however, you'll need a vision,a plan, and a few handy tools. There are lots of options, so your wedding backdrop is sure to be unique. If your'e ready to get started, let's figure out the best decoration for you?
We're going to explore two or three of my favorite ideas, ones that you can easily do yourself, and that don't require lots of supplies or materials.
Some Basic Tools...
Twinkle lights- Ordinary Christmas lights will work just fine, but I love the way "rice lights" so called for their small size, shimmer and sparkle. You can find these at many drug stores around Christmas time, but E-bay and Amazon will have lights like this available all year round. Both these online retailers offer free shipping on many items so they make a fantastic option.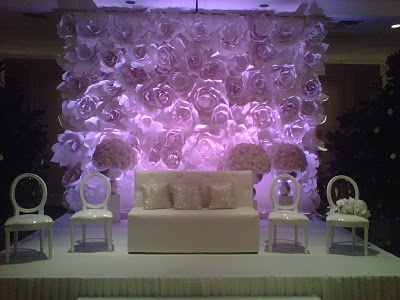 Photo and Design credits Once Upon Roses NY ,World of Posh NY
Sheer fabric- For the most part, you can't go wrong with a wedding backdrop of sheer fabric, draped beautifully behind the altar. The type of sheer fabric you purchase will depend on how you'd like the fabric to drape or hang. Generally the heavier the fabric, the easier it will be to drape. Chiffon or Organza are the favorite of most wedding designers for their weightlessness and sheen, but to drape correctly they will probably have to be doubled or layered.
A tall ladder-Depending on your venue you will need to secure your design using a ladder. Make sure the backdrop is not too short, you should not be able to see the top of it in your pictures.
PVC pipe-Found at most hardware stores, PVC pipe can be cut at the store to fit whatever length you need, and then assembled to create a frame. Be sure to make it secure so that it doesn't wobble or fall during your ceremony. Weight your frame at the corners with bricks or paint cans, but be sure to cover these discreetly. Twinkle lights can be stapled to the PVC, then covered with sheer or sparkly fabric. The overall effect will be beautiful.
Trouble Shoot in Advance
Make sure there is an adequate source of electricity nearby, and that excessive extension cords will not be necessary. If you are using fabric try sheer material, with lots of shimmer. Also try layering colors that complement each other for depth.
Take your time draping fabric so that everything is neat and symmetrical. Be sure to secure everything firmly. You don't want the fabric to be too heavy and cause your frame to fall midway through your ceremony or reception.
For a creative and super easy backdrop try... A "Tree Curtain". Simply line up potted Ficus trees, as your back drop. Trim the trees with rice lights, and decorate the pots with organza or tulle. A Decorative Screen-Typically used in home decorations a decorative screen can be placed at the head of the altar and embellished with beaded garland or flowers.
Ready to create your own wedding backdrop? Now you can move on to the rest of your wedding decoration ideas.