Maybe I'm just a cold-weather type, but fall and winter weddings are my absolute favorites! I grew up in sunny Southern California, so maybe it's snow envy, but I have always love the romanticism of a sleigh ride to a gorgeous winter venue.
I wish more brides would try weddings in the off-season, I am always amazed at how versatile a winter theme can really be. You can use holiday colors from red and green to glamorous gold and white. I've used a couple of common winter staples to create inspiration boards for a winter themed wedding just to get the ball rolling.
Some people have it in their heads that winter weddings are less glamorous but I beg to differ! There are lots of elements to work with that can make your winter wedding elegant and beautiful.
Quick Tips...
You'll want your guests to know what your theme is without asking, but naming your theme can make things a lot more fun! Winter weddings can be many things, so choose your niche and really work it! You'll get a few ideas below...
Next you'll use an inspiration board like the one we've created here which will help you choose your range of colors, your overall ceremony style and even things like the type of jewelry you'll be wearing on the big day.
Here is a cute theme you're sure to love!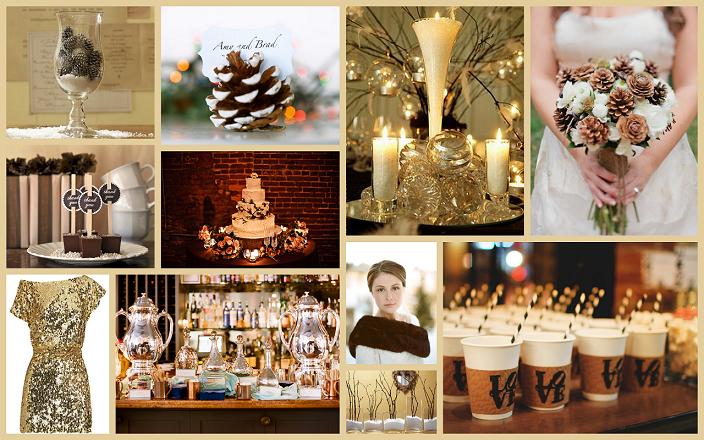 Let's call this theme, Hot Chocolate.
This Inspiration board is based around a gold, ivory and chocolate color scheme and incorporates many fun features of the season like, staging a hot chocolate station instead of a candy buffet for your chilly guests. Another way to take advantage of the season is to use the opportunity of the winter weather to wear an elegant fur shrug. Some ideas...
Chocolate brown bridesmaids dresses for your wedding party
Ivory wedding flowers with brown dried floral accents.
White chocolate martini's as your signature drink
Hot chocolate kits as wedding favors.
You can even let your bridesmaids in on the fun by giving them gifts appropriate for the season. To keep it cheap you can do chocolate brown mittens or scarves, and if you have more room in your budget, maybe some cushy Ugg boots.
Candy Cane Theme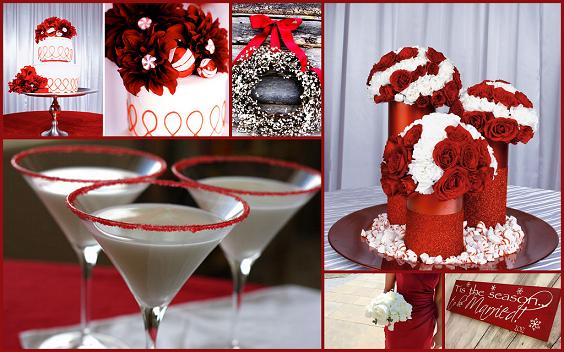 Red and White can look a little chintzy, or can be overdone, but with the right assets and just a little touch of sophistication, you can take your winter weddings to a new and exciting level! Once again your inspiration board will come in handy. Here are a few ideas to get you started.
Here's a chance to save money on your flowers by using carnations, which are an inexpensive flower, but work perfectly for this particular theme. Some more simple ideas...
Wedding wreath of red flowers with a white satin bow.
Peppermint topiaries as wedding table centerpieces.
Peppermint themed signature wedding drink.
Red roses in white mini pails as wedding aisle decoration.
You get the idea…you want to highlight the colors and spirit of the theme without going overboard on the cutesy element.
Return to home page from winter weddings page
Explore more wedding theme ideas
Get more winter wedding ideas
Planning a Christmas wedding?