Wedding Arch Decorations
Wedding Arch Decorations will make the ultimate impact during your ceremony, they will be one of the first thing guests notice. Not only that, but in many of your ceremony photos, your wedding arch is sure to appear. Your wedding arch decorations have to stand out. Whether you are looking for ideas to create your own decorations, or you have questions about hiring a professional, you have come to the right place. You are only a few steps away from making your wedding day vision a reality.
Make Your Wedding Arch Special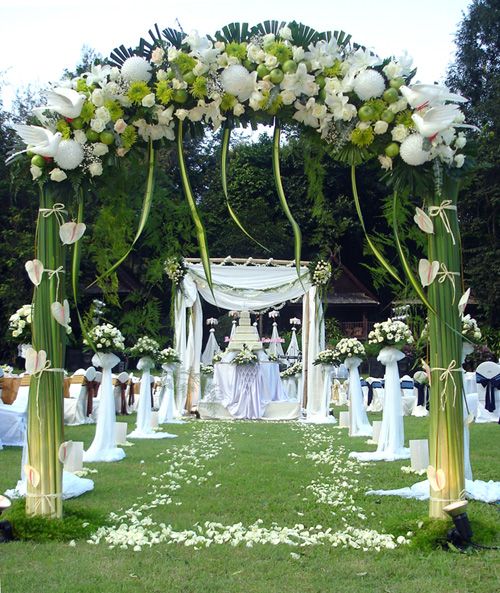 Your wedding arch decorations are the perfect frame for one of your most precious memories. As you stand at the altar ready to marry your Prince Charming, your guests will see you the portrait of you as a couple that they will remember forever. Your wedding arch decorations must be special. They must bring the perfect picture in your mind into reality. Every bride has dreamed of herself at the altar, now it's time to bring that vision into stark detail. You don't have to use flowers to make the arch beautiful. Sometimes there just isn't room in your budget for expensive flowers to decorate your arch.
Simple Ideas, and Do-It-Yourself
Some ideas for your decorations could include,silk or poly flowers which are available at most craft and dollar stores. You may need lots, so ask let a manager know in advance, and allow for ordering time if necessary. Another inexpensive way to decorate your arch if you don't want flowers are nylon or feather butterflies. A dozen small butterflies will run around five dollars. Check out E-bay for the best selection and pricing, many sellers even ship for free. Paper flowers, floral mesh or ribbon also look great and are fairly cheap. If your local craft store has a clearance section, ribbon can often be found for a steal.
Get a Custom Look, Without The Custom Pricetag
If you are already renting your wedding arch, ask your vendor if they provide silk floral décor for decorating it. Many vendors have anticipated the need for brides to have fantastic wedding arch design without having to pay for live flowers, expensive crystals or silk florals. These vendors offer arches for rent that are already decorated, and many will accommodate brides with custom designs. Not only does renting a decorated arch save time, a pre-decorated arch will be a lot less expensive than having a floral designer create live arrangements, and you won't have to worry about wilt or droop in hot weather. Take your time to look for the right vendor and your wedding arch design will be amazing!
Decorations That Reflect Your Theme
Your wedding arch will play a large role in your greater theme. If you have chosen a fantasy theme wedding for example, a wrought iron arch may not look as whimsical and appropriate as a braided willow arch. Think about the type of wedding you are planning and take that into account when choosing the type of arch or wedding altar decorations.
You can have lots of fun with your wedding arch decorations if you use a theme as your starting point.