If you're planning a wedding of almost any size you'll want discount wedding decorations. You want decorations that don't look cheesy or old-fashioned, but you're buying lots of things for your wedding, and you need to save right? The good news is that you don't have to sacrifice style to get a discount. There are loads of creative and thrifty ways to make your wedding budget stretch it's furthest.
Where to Start?
If you are on a tight budget, discount wedding decorations are certainly a must have! But where are the first places you should look? If you're not a wedding planner or other design professional, you may be at a loss as to where to find the best deals. You've been to the party stores, and found that discounts aren't as great as you'd like.
You can have the amazing, beautiful wedding of your dreams, and do it on a budget. Brides all over have managed with just a few simple tips and savvy planning. The fact that you are here, proves you are a savvy planner, now all you need are proven tips for making your wedding and reception look like a million dollars (for dramatically less of course!).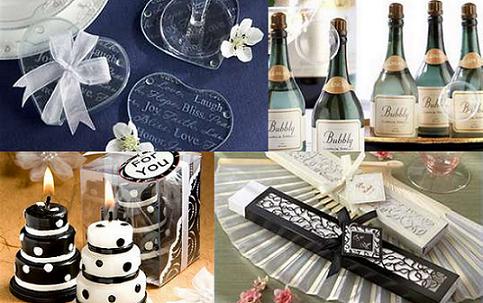 For discount wedding favors, Oriental trading is a great option. They have lots of selection and great prices too! If you are looking for things like silk wedding flowers, wedding take-out boxes or other wedding novelties, this site will be a great option for you. If you want to compare the items you find there to other vendor, use Google Shopping, which is another great resource. You'll be able to do a quick comparison of prices, and you may wind up shaving off a few dollars on the price.
More Ideas for discount wedding decorations
Discounts can be found at every stage of planning. From booking competent vendors for less to finding the right place to purchase products in bulk, there are tons of ways to save on your big day. While every tip or technique for creating wedding decorations on a budget, won't be a good fit for you, I hope you are inspired to do more for less after reading these tips.
Shop off season
If you have plenty of time to plan your wedding you can save a ton by simply shopping off season. For example if you are having a winter wedding and you have time, start your shopping right after Christmas. Decorations like ornaments, artificial trees, ribbon and silk floral will can be had for a steal.
You can also get discount wedding decorations by perusing deals right after the traditional bridal season, which last from about June to September.
Brides are happy to pass along many of the gently used items from their own wedding and reception for a fraction of what they paid. Wedding related boards and forums are full of ads for such items as wedding centerpieces, ribbon, mirrors and countless other items.
Shop E-bay
E-bay is a great source for discount wedding decorations. Many brides are eager to resell items from their weddings and receptions, and E-bay is a great place to find items for your wedding at a discount.
There are also tons of E-bay sellers with offline stores which will be able to sell in quantity.
Take advantage of extra savings by purchasing from vendors who also offer free shipping. This can provide considerable savings and there is the added benefit of the time you'll save not having to visit store after store. More Ideas for Decorations on the Cheap!
A final money saving tip
Keeping in mind that costs vary considerably from season to season and day of the week, choosing a less common time of year can save you lots. Most weddings take place between May and September. Booking your venue off-season saves you money on the ceremony, the reception hall, airline tickets and much more.
Saturdays are the most popular day for weddings, but being less traditional can save you money. How about a friday evening wedding and reception? You can save a lot of money on your venue this way.
Need more ideas for your budget wedding?
Get tips to Make Your Own Wedding Decorations
Return to home from discount wedding decorations