Most brides who choose fall wedding decorations, do so to stand out. You are looking for a different kind of ceremony and reception, one that speaks to who you are in a deeper way. For you, a crisp and clear fall day, with red and orange leaves fluttering in the wind is the perfect scenery for a romantic outdoor ceremony. Even if you don't choose an outdoor venue, you really want to bring the essence of fall into wedding decorations, your cake and even your attire that day.
Fall wedding decorations, when done correctly, can indeed be one of the most charming and beautiful wedding themes you can imagine. Opportunities are everywhere to use the natural beauty of the season to your best advantage. As you develop your wedding decoration ideas, you will be inspired to use formerly unconsidered objects in completely new ways, saving yourself frustration and money in the process.
Want some Fall Wedding Cake Ideas?
Take Advantage of Cheap Natural Materials
Branches as decoration: During the fall season, cut branches are available nearly everywhere you look. Take a few two to four foot branches and use them to create reception centerpieces. Cover the bottom of a tall cylinder vase with two to three inches of decorative stones and bury battery powered LED lights within. Making sure to choose a vase large enough that the entire branch fits inside, place your branches on top of you decorative stones. Choose fall color LED lights, and stones. Spray paint your branches gold or affix silk blossoms for added drama.
Incorporate Fall Leaves: Maybe you've seen the intricately designed rose petal carpets being created by many top bridal designers. Create your own version of the petal carpet for your fall wedding decorations, using autumn leaves! An added bonus is the lovely rustle the crisp leaves will make as you walk down the aisle. You can choose to do a full lush carpet of leaves which will cover the entire aisle way, or you may just want to line the aisle with leaves on either side. Either way, it will be an adorable way to bring a bit of whimsy into your fall ceremony.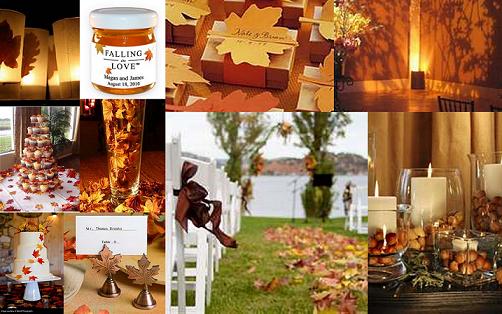 Makeover pumpkins: Another interesting way to incorporate natural elements into your fall wedding decorations, is to use pumpkins or gourds. Available in almost any size, and a virtual rainbow of colors, they can be used in a multitude of ways. Depending on your exact color scheme, use orange or white mini-pumpkins as place-card holders. To glam these mini's up a bit, spray paint in complementary metallic tones like copper, gold or silver, and affix your place-cards with decorative stick pins for easy display and removal. Larger pumpkins make great vases for fall wedding flowers, and as decoration around your altar.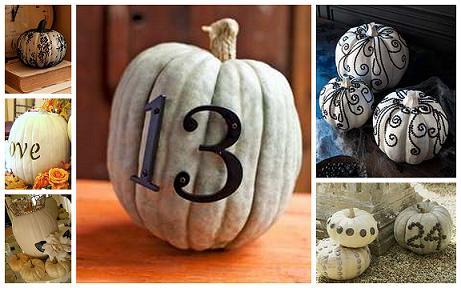 Fall Wedding Colors
The Fall season really provides an opportunity to use a color palette you don't see during other seasons. Deep rusty oranges and gleaming reds take your fall wedding decorations to another level and let your personality and the feel of the season really shine through. The classic orange, brown, red or yellow tones of fall are nice, but are they really the only colors for a fall wedding? Not by a long shot. Many brides love the idea of a fall wedding, but hesitate to choose a fall theme wedding based on the limited color choices. Yet, there are many ways to evoke the spirit of fall's bounty in colors that will dazzle and surprise.
All it takes to create a unique, and distinctive color scheme is the willingness to think a bit outside the box; for instance, instead of choosing red, you may opt instead for a bright raspberry tone. Pair this with a mossy green, and rich ivory, and you've got colors that can easily translate into fall, but are modern and alluring. An updated fall palette includes colors such as deep orange, rust and brown. Gold, deep pink, and fawny biege are also used and along with traditional fall colors give brides more choices than ever. You may also want to consider mustard yellow, fiery red or electric greens like Chartreuse that really liven up your Fall themed wedding and reception decorations.
Ready to start planning your fall wedding bouquets?
Get more ideas for fall wedding decorations.
Learn more about fall wedding flowers