Unsure about Wedding Invitation Etiquette?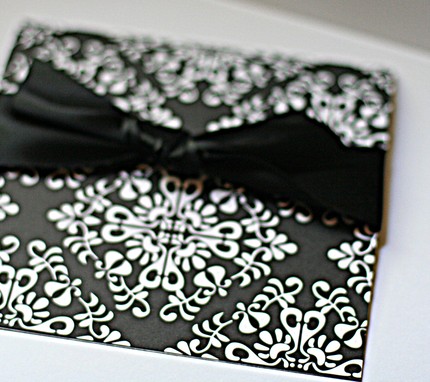 Weddings are the most beautiful events that families share together. Why let worries over wedding invitation etiquette get in the way? However it can be very stressful for the couple to prepare for the entire event as there a number of things that can go wrong. Doing a little research in advance saves you some awkward moments later on. Surprisingly your family and friends can be especially sensitive about the wording of your invites, so you'll want to get right.
Don't Be Intimidated
When you are planning for a wedding make it simple by understanding wedding invitation etiquette in advance. Because so many families are blended today, and many couples wish to include special people who aren't necessarily family on their invitations, there needs to be a way to figure it all out. Certain guidelines should be followed, like when to send the invitations, what should contents of the invites be, etc., but some guidelines have changed to fit a different culture. The most important thing about wedding invitation etiquette is making your guests feel welcomed and wanted on your big day.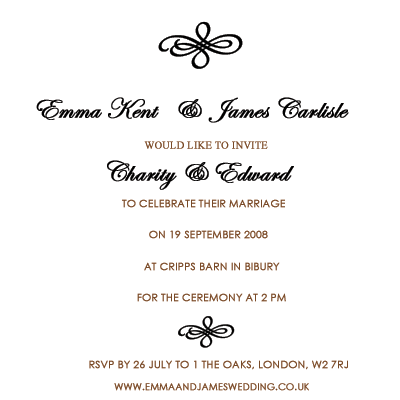 Basic Guidelines
The first thing you need to keep in mind is time. If you have people coming from far away then you need to send the invites before it's too late. Six to eight weeks is best. Another important thing is choosing the envelope; Your printer will most likely offer one or two options for your chosen invitations, steer clear of flimsy paper, which will be damaged in the mail. Don't abbreviate addresses on the envelope, and be sure to include your return address of course. Many brides like to put this on the back flap for wedding invitations, saving the front of the envelope for the addressee.
Inside the Invitation
You need to clear about the information like date, time and venue. If possible you can also include a small map as this can make things easier for the guests. Strict etiquette is easier to say than to implement. Much care needs to put into using proper naming scheme, take special care when referring to different people.
Some common dilemmas include:
Should you refer to a young divorced lady as Miss or Ms.?- For a divorced woman always use Miss. This is the non-abbreviated version and is always most appropriate.
How to address an envelope to an invitee who will be bringing a guest?-On the outer envelope use the invitee name only, but on the inner envelope you can add "and Guest"
What is the proper way to invite the children of your guests?- To invite kids, add the first names only of the children on the inner envelope under the names of the parents.
A less traditional concern is couples living together, who aren't married.- Etiquette says address the outer and inner envelopes with both names, i.e. 'Mr. John Jones and Miss Kathy Stone'.
You need to follow proper wedding invitation etiquette because it represents you.
You should dedicate a lot of time and put in a lot of care when selecting the invitation. The invitation should reach your guests in time; Be clear, and sure to address your guests correctly. If you follow these steps you will be following proper wedding invitation etiquette.
Return to home page from wedding invitation etiquette