Looking for cheap wedding decorations that don't look cheap? I mean really, even if you are on the budget, you don't want your guests to notice you didn't break the bank to decorate your wedding. You want your guests to envy your decorating savvy and your beautiful wedding theme, so here are a few tips to help you create wedding decorations that won't skimp on luxury and glamour.
A couple of fun ways to achieve the look…
An invaluable resource for finding cheap wedding decorations is the dollar store or flea market. Here you can find vases for a dollar or less, and the best part is that they are usually available in large quantities. A simple vase can be transformed into any number of wedding centerpiece ideas, and make wonderful accents for other areas at the reception or ceremony.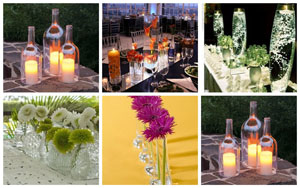 There are many easy ideas for dollar vases, from filling them with sand, wrapping them in tissue paper, or gluing translucent leaves to the outside. For the best effect use tall and short vases grouped together, and intersperse with tall narrow stemmed candle holders. The best of the dollar stores for decorating is the Dollar Tree Store hands down. They usually carry several styles and sizes of vase, and cute vase fillers like rocks, glass cubes, or seashells. They also offer a chance to buy almost every item in bulk, by simply calling a number and you can pick you order up at your nearest store.
For cheap bottle favors, you can fill simple glass bottles with Jordan almonds and tie ribbon in your chosen wedding colors.
Buy Supplies on the Cheap
You can also buy supplies for putting your wedding decorations together, like glue, twist ties and styro-foam shapes. Another option for cheap decorations is tulle or organza fabric. You can usually purchase a yard of organza for less than a dollar and tulle is just as inexpensive. Either material can prove to be a life saver for a bride on a budget. You can use the fabric for chair sashes, as a wedding backdrop for your sweetheart table, and you can drape it from just about anywhere. There are a rainbow of colors available, so you will be sure to find your wedding color theme.
Some New Trends are Really Inexpensive Too

My favorite new option for wedding decorations on the cheap are water gel beads. These highly versatile little jellies, come dry and are usually smaller than a lentil. However when placed in water they expand and one tiny half ounce package can be used to fill a vase 16" tall. They are available in many colors, and the clear beads will take on color of placed in tinted water. They are great since they will add color and texture inside the vase, and are a huge improvement over plain old water. Fill a cylinder or abstract shaped vase with colored gel beads and add submersible LED lights, for a simple wedding reception centerpiece.
Need more inspiration for cheap wedding decorations?