If you are considering artificial flowers for your wedding reception centerpieces, your bouquet or some other arrangement, I'd like to share a few ideas with you for the best ways of using them. They can look just as good, last much longer, and be much less of a hassle and expense.
Jumping brooms make a great vehicle for your silk flowers. If you are planning to honor this sentimental tradition at your wedding, why not create a jumping broom that you can cherish and keep forever. Using live flowers isn't really practical for this purpose and often the artificial ones look better than the real thing. You'll get the benefit of more colors to choose from, and the best part is they will last forever and look as good on day one as day one thousand one.
Door Wreaths
If you are having your wedding someplace that has double doors, why not decorate them with style? A door wreath on each side will look amazing. Lighter than real flowers, your artificial blooms make creating and handling the wreaths much easier, and you can use them for your door at home after the wedding. No matter the theme you can use artificial flowers to create an awesome wreath. Cover a form completely in flowers, or use a natural material like willow to create your wreath, and use your flowers to enhance it's simple beauty.
Kissing Balls
Who doesn't love these charming little orbs? I've seen them in every color of the rainbow and they always look great. They can also be used in so many ways. Place them on shepherds hooks and line your wedding aisle, or place them free standing, at intervals. Use different sizes to make it more interesting. Kissing balls also make excellent wedding arch decoration! Again try different sizes, and even different shades of the same color for an Ombre effect.
Bridal Bouquets
Wanna keep your bridal bouquet as beautiful as the day you walked down the aisle? You guessed it... use silk flowers! They are going to allow you to enjoy your gorgeous bouquet for many years to come, and make a romantic reminder of the beauty of your big day. My favorite artificial flowers for bouquets are Peonies, Roses and Ranuncula hands down. Even the cheapest versions look pretty good, and they're just classic, lovely, flowers.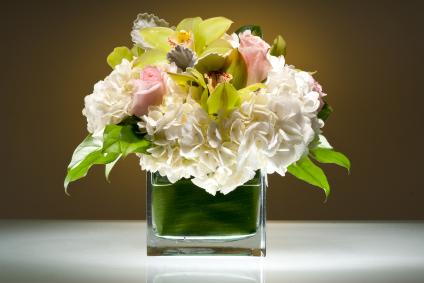 Wedding Centerpieces
If you would like to give your wedding centerpieces as gifts to your guests, do them a favor and use artificial flowers. They won't make a mess for them to take home, which can't always be said for live floral centerpieces. A bonus for you? Using these flowers allow you to create your wedding centerpieces well in advance if you're a do-it-yourselfer and can be used again to decorate some other special event after your wedding.
Return to Home from artificial flowers page

Get more ideas for silk wedding flowers
Get ideas for Black Silk Flowers