Silk wedding flowers can look absolutely amazing, and if done right can look just as good as real, fresh blooms. It all depends on the quality of the flowers you use and the way you use them.
One question you may have is...Do I have to use real silk wedding flowers? Unless you have some serious room in your budget you will most likely be using flowers made of polyester or some similar fabric. While there is a quality difference between different manufacturers and retailers, you can still find reasonably priced artificial or silk flowers easily on line or in most shopping districts, like ours in Downtown L.A. While silk flowers are lovely, polyester flowers make a very reasonable substitute and depending on the lighting and distance will look just as lovely.
Why choose Silk Wedding Flowers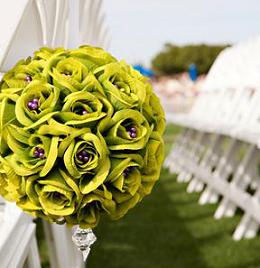 They last forever-Some brides really hate the fact that live flowers wilt and die so quickly. For these particular brides silk or poly flowers can be a really good option.
Wont' irritate allergies.-Artificial flowers can be a God send for guests with sensitive allergies. If your wedding is in Spring, guests with allergies will appreciate your having fabric flowers instead of real ones. .
Can be assembled far in advance-Your arrangements can be made far in advance of your wedding. This can free up a great deal of time on the day of your event and the less help you have putting your wedding centerpieces together, the important this will be.
Endless Color Options-If you have a really unique color scheme, artificial flowers make a great choice. There is no limit to the colors you can mix and match. Let yourself be inspired. .
Where to Buy Artificial Flowers.
Depending on the quality, you can find silk wedding flowers, or their poly cousins, at any place from a dollar store to specialty craft suppliers. The way to narrow down your choices is to ask yourself which is more important; realism or price?
If you really want your silk wedding flowers to look absolutely life-like, you will be able to find amazing flowers at stores like Michael's or your nearest craft supply store. Shop clearance sales and off season, prices are typically 40-70% off and you will get more bang for your budget. If a clearance sale at Michaels still doesn't meet your budget requirements, why no try you local dollar store. Chains like the Dollar Tree Stores are a great place to find artificial flowers. There will be a little variation from store to store so plan ahead and check out a few at a time.
Some Decorating Tips
Wedding arch decorations are an especially good canvas for your fabric wedding flowers because most often there is limited time to decorate before your ceremony, and using silk flowers your arch can be decorated in advance off site. You will also want to decorate the ends of your pews, and flower accents look good here as well. Flowers can also be a great accent on chair sashes, napkin rings or make adorable heart or circle wreaths using your favorite flowers. You won't have to worry about wilting, browning or tearing with fabric flowers, so you'll be able to rest easier knowing your arrangements are sure to last.
Don't be afraid to take your floral stems apart and use every bit of material that is available. You can use the blooms, and the leaves and the stems can be part of your arrangement or not. Use flowers in unexpected places-use small blooms like hydrangeas or geraniums and pave them along the outside of your gift card box. Use a hot glue gun and keep the petals close together. Be sure to cover the box entirely. The end result is soft and romantic, and best of all it's simple to do.
Return to home from silk wedding flowers