I have found some really great ideas for wedding table numbers and I'm excited to share a few with you, in hopes you'll be able to use them for your wedding table decorations.
The use for wedding table numbers is obvious. Your guests will need a clear indicator of where to go when they enter your wedding reception. You'll want something that is clearly visible, even with the wedding centerpieces, china and dim lighting sure to be dominating the scene.
So.. Since you're going to be needing these handy little numbers anyway, why not make them fabulous?
For really fancy wedding table numbers, that will go well with your glamorous wedding theme, go for a little glitz, with glitter!
Buy wooden crafts project numbers and paint them in the color of your choice. Use a spray on adhesive to completely coat the numbers then sprinkle on enough super fine glitter to cover the entire piece. Shake off the excess glitter, you'll be in love with the result.
Another cute idea, which can work for any wedding from a vintage style wedding to a Christmas wedding is to use picture frames to showcase your wedding table numbers. You can do this with or without the backing, depending on the frame you choose.
These are super easy to do, and even if all you have is plain frames, they can be dressed up almost any way you like.
My favorite way to embellish plain picture frames is to attach faux rhinestone trim or some other special trim around the outer edge. Seashells and small stones look equally amazing, and what you use will of course depend on your theme.
Picking Fonts for Your Numbers
The numbers you paste inside your frame are just as important as what you do (if anything) to the outside of the frame though, so lets take a look at that.
I have a Cricut, die-cut machine, but you can buy die-cut numbers on Esty, or you can print and cut out numbers yourself. You will need heavy cardstock, to paste the numbers onto.
Hand-drawn numbers can also look really great. Use a dry erase marker or oil pastel to draw your numbers directly onto the glass for an artistic touch, or draw the numbers onto heavy white cardstock. A stencil will help a lot if you don't wish to draw your numbers free-hand.
Last but not least, a super easy idea for wedding table numbers...
Use Wine Bottles!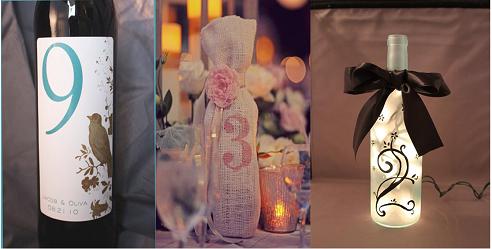 You can stencil on painted numbers, create custom lables, or cover your bottles with fabric. This really is a versatile way to create table numbers that saves money, and is quick and easy to put together!
The best thing about all of these ideas is that they are easily customizable. Adding color, different styles of font for your numbers, or even the type of fabric you use, make these projects all your own.
I hope you'll try one of these projects for your wedding, and that you'll check back soon for more great ideas!
Get More Wedding Table Ideas
Get tips to Make Your Own Wedding Decorations
Return to home from wedding table numbers