You want outdoor wedding decorations that will be fun and memorable, but how do you get the look you want? If you've always wanted something a little different for your wedding ceremony or reception you'll have a good head start with the tips and techniques found here. Decorating for your outdoor wedding can be fun and exciting, but has an altogether different set of considerations from an indoor wedding. The great thing about garden or backyard weddings is they enable you and your guests to fully enjoy the seasonal elements, be it summer, fall or spring. Let's explore a few important elements you must consider.
What to Look For in Your Site
Will you be having both the ceremony and reception outdoors?
If both halves of your wedding day celebration will be outdoors, you may wish to consider wedding tents, or canopies for the reception nor ceremony, or both. These temporary shelters will provide an element of comfort to your guests, and will make your outdoor wedding decorations easier to pull off. A tent or canopy will allow for shade, and will provide a structure for your decorations as well. Many tents are walled, which will allow for extra protection from the elements, especially wind or rain, which have the potential to ruin an outdoor event.
Will adequate power be available at your outdoor site?
Your outdoor wedding decorations will be very dependent on an adequate power source, especially if your event will carry into the evening. You will want to be certain that any lights, speakers or other electrical equipment can be connected safely, out of the way and view of your guests.
Is your site near tall trees with overhanging branches?
Trees can be a nuisance if you are setting up wedding tents, and they are in the way, but if there are large trees near your ceremony site, they could provide a beautiful canopy for your ceremony, and provide and excellent support for hanging decorations like lanterns or strings of lights. Is your site near a Wide and flat area? For an outdoor wedding, a flat area is a must for setting up tents or other structures. Ground that is flat, hard and even will make anchoring your structure easier, and should be a top consideration when choosing your outdoor wedding site.
Simple Ideas for Wedding Decorations
Paper Lanterns- Once only associated with Asian Theme weddings, paper lanterns have grown in popularity and have evolved into mainstream use for any type of wedding. They make lovely decorations, because they are light weight, and can be suspended from overhanging branches, or from the ceiling of your wedding tent. Paper lanterns are fairly inexpensive and come in a vast array of colors and sizes.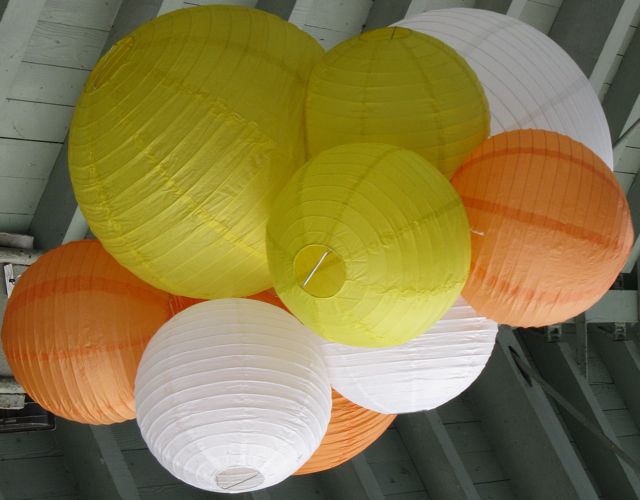 Oversize Vases- Large glass vases are very versatile, and make an excellent base for your outdoor wedding decorations. The trick is to go for tall, wide vases that provide instant drama. Fill with elements found in nature, like branches, palm fronds, sands or stones for a true outdoor wedding feel. Group these vases together in various heights, and add pillar candles, the effect will be amazing.
Use lots of flowers- Flowers can add a touch of the romantic when sheer, lightweight fabric is used to create a dramatic effect on your wedding arch, or wedding aisle decorations and accented with colorful blossoms. Secure the fabric anyway you wish, but be sure to add flowers in the places where the fabric is tied. The more colorful flowers the better. Try floral garlands or leis to decorate an outdoor wedding tent or wedding chairs. What a great way to use flowers!
Go to garden wedding decorations page
Get ideas for decorating wedding tents
Return to outdoor wedding page
Return to home from outdoor wedding decorations