So you've decided that a garden wedding is right for you? Good, because garden wedding decorations can be lots of fun! You're in the beautiful outdoors, with lots of garden scenery to help make your wedding decorations especially dreamy. If you are planning a garden wedding there are a few things to know before you begin. No matter where your ceremony will take place, a bit of planning and knowledge never hurt.
If your ceremony will be in a public garden be sure to speak with the groundskeeper or manager before planning your garden wedding decoration. There may be some special rules about what you can bring into the site. Decide if you will be having your ceremony and reception at the same place. If so , how far apart are the ceremony site and the reception site? Be sure to have a family member or friend act as usher so that guests know where to go before and after your ceremony.
A couple of fun ways to achieve the look…
You don't want to decorate in your wedding dress! Gather your decorating team in advance. Make sure they all have a clear idea of what you have in mind. Creating an illustration of the site is helpful, add swatches of fabric and other elements from your chosen theme. When choosing the materials for your Garden Wedding Decorations, choose materials that best fit the flora already on site, and try to incorporate as much of the natural elements at your site, as you can.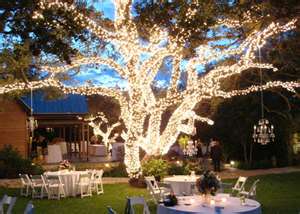 Some ideas:
If there are rose topiaries for example, you can pretty these up and establish your theme easily by tying ribbon around them or covering in tulle in the color of your theme. If it is an evening ceremony, and it is permitted, add twinkle lights. Surround the base of the topiaries with rose petals for a finished look. If there are large trees nearby, bring a ladder and hand fishing wire between them. Hang paper lanterns from the wire, at intervals, to create gorgeous lighting or just a nifty decoration. These Chinese style paper lanterns are very popular and now come in a wide range of colors and shapes. Play with sizes both large and small to make this decoration more interesting.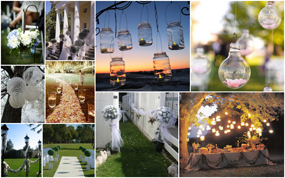 Consider using a simple tent frame, especially if your reception will be in the later part of the day. Tulle or sheer fabric will dress up the frame, and once finished looks airy and beautiful. For garden wedding decorations, you want to take full advantage of the outdoors element. A tent frame will allow for some structure, without separating your guests from the beauty of the garden setting. You can bump up the design by adding a little bling in the form of crystal or plastic beaded garland. Choosing fabric that has some beading or texture also looks great.
For Example Try:
Use what's readily available to you in the great outdoors like twigs and branches to create awesome wedding designs. Showcase branches in tall elegant vases banking the aisles for your ceremony, or use neatly trimmed topiaries to give your garden wedding decorations a clean, modern look. Using props like columns and arches is a good idea for indoor or outdoor weddings, and stanchions or shepherds hooks are a must for creating aisle decorations outdoors. You can add other details as you see fit.
Return to Home from garden wedding decoration
Get Ideas for outdoor wedding decorations
Get Outdoor Wedding Decorations