Fall is an amazing time of year. Fall wedding cakes offer an array of designs that will highlight and compliment all the beauty that the season has to offer. There are many elements to choose from when deciding on the design for your fall wedding cake.
From the glorious, vibrant colors of fall leaves, to the knotty and interesting branches of autumns tree branches. You have an especially fortunate chance to use natural elements in your wedding decorations, just look around and you are sure to find inspiration for your cake in foliage, pine cones, corn cobs and pumpkins.
Any of these can be used to create fabulous Fall wedding cake designs, and your guest will surely appreciate the personal touches.
Deciding On a Color Scheme
Which colors will prove best for your fall wedding cake designs? Some Fall brides choose classic Ivory or White. These colors are the most popular since they provide the neatest and cleanest backgrounds for other elements of the design, like cutouts, flowers or ribbon. Other colors may appeal to you, if you are looking for something a little bit different. For instance a deep yellow or even a toned-down orange can make an awesome color for your cake. You can even use a trendy color like olive green, which will look great with lots of gold detail. Your bakery should be able to mix a custom color for you if you really want to be adventurous.
How Important is Taste to You?

Fondant, Butter Cream or Whipped Cream? Many of the cakes featured on those cool new wedding shows feature cakes made of foot after foot of rolled fondant. There are several reasons that cake designers like fondant, but it may not be the best choice for your cake. There are pros and cons to every choice, and the more you know ahead of time the better prepared you are to choose just the right topping for your fall wedding cake.
Fortunately you are planning your wedding in the Fall, when hot weather is rarely a factor. This is especially good for butter cream and whipped cream toppings, which easily melt in hot temperatures. For fondant, cool weather is also important, since the delicate fondant can crack in hot or dry weather. Taste will be a prime consideration. Just like the frosting, and outside decorations for your cake, the flavor of the cake you choose is also important. There are two major things to consider: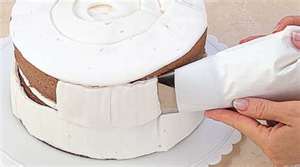 First, what are you and your guests going to like best? Some trendy cake flavors may not appeal to everybody, and even though it is your day, and certainly your choice you may want to keep in mind that you are not the only person who will be eating cake that day. Taste is also a consideration when trying to decide what type of frosting for your cake. Most people give butter cream the taste advantage.
The second important thing to consider is how important is the taste of your topping or frosting. Although it looks awesome, for most people fondant tastes a lot less sweet that butter cream. Also whether or not you will have a filling will be important. For your fall wedding cake designs, this may be something like cinnamon apple or pumpkin mousse. Choose a filling that will best compliment, not overpower the actual cake.
Designing a Cake You'll Love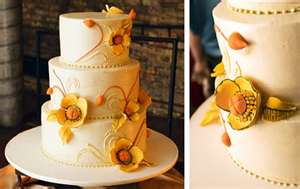 When thinking of your cake design you may have dozens of specific little details you wish to include. Maybe you like intricate piping, or you crave bunches of fondant leaves cascading down the front of the cake. For fall wedding cake designs details like these can be especially important in defining the theme of your fall cake. Believe it or not your choice of frosting affects the overall design of your cake. Many brides have their hearts set on a particular type of design for their cakes. Many brides are looking for whimsical or over the top designs, and cakes are getting bigger and bolder in the process. Be aware that certain things that can be done with fondant, can't really be accomplished with the softer butter cream or whipped cream frostings.
Cost Considerations?
Be aware that small things, can also mean a big difference in price for you cake. Many intricate designs, especially layered ones, just have to be done with fondant or molding chocolate in order for them to hold up. This is important to consider when choosing fall wedding cake designs, because fondant is notably more expensive than either butter cream or whipped cream. Fondant is also a great choice if you simply must have the smoothest finish possible or if you want a cake with sleek rounded sides or edges.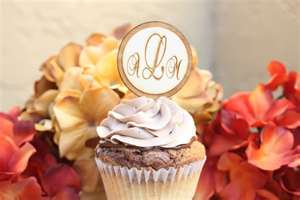 Traditional cake or Something different?
You may be searching for non-traditional fall wedding cake designs and you are hoping to find something that will still be fitting for the romantic occasion that is your wedding day. Not to worry, there are several viable options in this category, and you will be surprised just how beautiful these alternatives can be. A very popular choice for brides looking for an alternative is cupcakes. They are great since they are individual and allow for more portability. They also open up a vast array of options for your design. Since you are having a fall wedding, your wedding cupcakes can reflect all the beauty of the season with yummy fall themed frostings, fillings and moist cake. Cupcakes can be just the perfect sized bite for your guests, and there isn't the problem of cutting the cake, just stack or display them creatively and let your guests serve themselves.
Fall wedding cakes as part of the decor? The right cake will flow with your overall wedding decorations and theme.