If you are seeking ideas for your winter wonderland wedding, you've come to the right place! This is a winter wedding theme that is hard to beat…the colors and décor you'll use for this wedding theme are truly fun and exciting and I can't wait for you to see the final result…
Planning your winter wonderland wedding
You're going to start with a winter wedding color palette of winter white and blue. I specify "winter" white because you want a very bright, almost blue tinted white. Nothing with a yellow or ivory tone.
The white and blue are simply your base colors..you can use any variation of the two, and don't be afraid to play around with several different shades of blue depending on your own particular taste. A bit of silver will round out your palette and add a bit of glamor at the same time.
Bringing It All Together
One element I think is very important for setting the stage for this particular theme is the wedding aisle decoration. This will most likely be one of the first things your guests will see, so you'll really want to set the stage for what's to come.
You'll also want to coordinate the wedding escort card table (or sign-in table if you prefer), so that everything makes your winter wonderland wedding idea really come together. One really easy, beautiful and effective way to do this is to use tree branches.
You can use branches for your winter wonderland wedding in several ways
Use branches of any type, but be sure they are rather full and at least three to four feet tall. You can usually find them for free in your own neighborhood or through a gardener.
The next step you'll want to take is to paint your branches to match your wonderland theme colors. I recommend all white, or a really pale blue, but you'll have to eye it for yourself.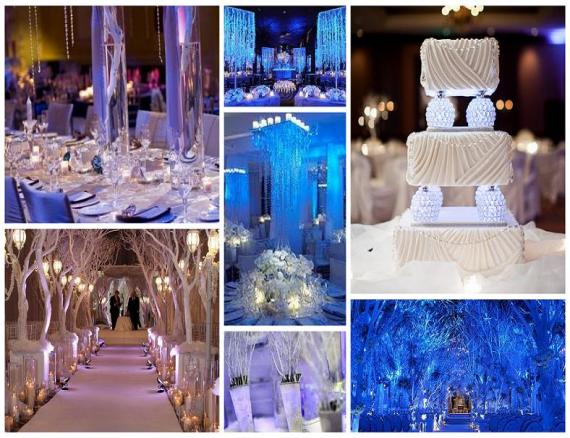 Tip: Add drama to an evening wedding by up lighting your white wedding décor with blue LED lights.
Once you have painted your branches you'll want to apply some micro glitter in iridescent white before they dry completely. This will give your branches an amazing sparkly look and once you have grouped your branches together it will look awesome!
To support your painted branches you'll want to fill vases with white sand or rocks to anchor them. Go even more glam and paint your rocks silver, being sure they are dry before adding them to your vases.
You can space a few vases out down your wedding aisle, or use many placed close together. The effect is that of a wintery and enchanted forest. Be sure to place vases where they won't obstruct your guests view too much.
The next step in completing this winter wonderland wedding aisle is to dust the outside edges of your aisle with fake snow instead of the traditional wedding petals.
Tip: The taller the branches the more dramatic the look, you can even bring them together in the center of your aisle from either side, to make an arch.
Now that your wedding aisle décor is complete, you will concentrate on your winter wonderland wedding backdrop. Once your guests are seated all eyes will be on the head of the aisle where you and your beloved stand ready to recite your vows. This is a big moment and we want your amazing backdrop to reflect that.
One super easy way to create an elegant winter backdrop is to use pipe and drape at the head of your aisle. If you aren't familiar with pipe and drape it's what's used to transform ugly or plain walls into something more beautiful. The concept is pretty simple. PVC or aluminum pipes are fitted together to create a frame. Panels of fabric are then hung from these frames to create a covering that can stand against and be lined up side to side along walls.
You can use the basic white fabric that comes included with most pipe and drape rentals or you can choose a more theme appropriate fabric like sheer organza or iridescent fabric and pin that over the basic panel.
Return to home page from Winter Wonderland Wedding page
or Get more Winter Wedding Ideas...
Back to Winter Weddings page