When looking for winter wedding ideas, you want items that are going to translate the season to any guest at your wedding. You'll also want to add your own personal touch and you'll probably want to do all this on a budget. So how to get started?
Not only can they be used almost anywhere, they can be dressed up in several ways if you want to enhance their natural beauty. Make it even more perfect for winter by dusting the pinecones with artificial spray snow or make your pinecones glam by spray painting them silver or dusting them in iridescent glitter after applying spray glue.
I love ideas that allow me to use the bare minimum of materials to get the maximum punch I'm looking for. These snow vases fit the bill in that they are absolutely lovely, yet are wonderfully inexpensive and super easy to do.
You simply apply spray glue to tall or short cylinder vases and roll them in artificial snow. I normally do only the bottom half of the vase, but if you'd like to do the entire thing, go for it!
Creating warmth and comfort for your wedding guests-There are lots of fun perks to having a winter wedding, and to be sure your guests get a taste of the fun, why not incorporate warm and fuzzy wedding favors to make your guests nice and comfy?
A fun idea...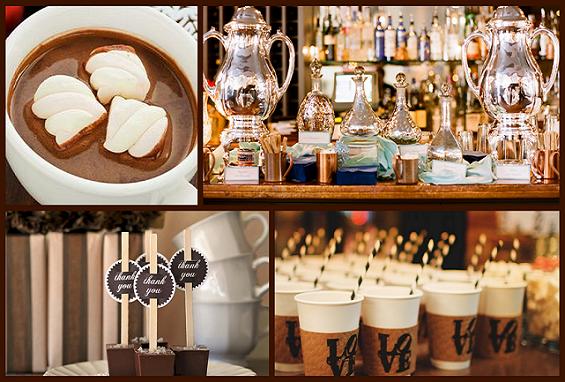 Try a spin on the trendy candy buffet with winter wedding ideas more appropriate for the season, like a Hot Chocolate Station sure to give your wedding guests the warm and fuzzies.
Like any treat station they key to a successful hot chocolate station is partly in the presentation, so we are going to start off with a few ideas on how to make it look really fabulous, then finish with some yummy treats for you to incorporate into your hot chocolate station.
For a rustic or personal feel use ceramic mugs. Color coordinated of course! Your guests are sure to notice this warm touch.
Display your hot cocoa treats creatively to add to the overall look of your station. Showcase bunches of cinnamon sticks in mason jars, pile giant marshmallows into beautiful vases or serve cream from an old fashion pitcher. Personalize your winter wedding ideas with these creative touches.
Two of everything is always a good idea for any treat or dessert station set-up. Mirror your big items on each side of the table to make access easier for your guests.
You wont fail to plan for simple things like how your guests will descend upon your hot chocolate station all at the same time. Balancing out your table with one of each item on each side of the table will solve this problem in a snap.
Try unusual items like mini churros instead of the traditional donught to add some flavor to your hot cocoa bar.
Tip: You don't have to put tons of stuff on each side if you use smaller jars or containers to hold your items. Much of your station is decorative anyway.
Return to home page from winter wedding ideas
Back to Winter Weddings page