You can design western wedding decorations that will be fun and elegant at the same time. It's easy to add a little country flair and most of the elements to create the look are easy to find, and are usually inexpensive.
You can go as simple or elaborate with this theme as you like. Whether you want to add a little touch of country or go wild, this is one wedding reception theme that is sure to wow your guests, and make your wedding fun too!
To really set the tone you'll need decorations that tie your ceremony and reception together and create a flow from venue to venue.
The proper setting is going to be especially important to get the country western atmosphere you are looking for. Western wedding decorations often require a bit of extra planning and time because you don't see hay bales and wooden barrels at your average shopping mall. This is probably one reason you chose this theme, you want a wedding that is unique.
Don't become overwhelmed. You don't have to recreate the ranch from Bonanza, it's quite easy to convey the theme using some key decorative elements.
Choosing Your Venue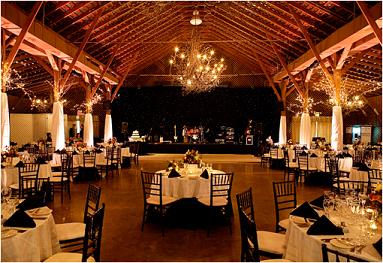 There are many great places to hold a western style ceremony. Just a few that come to mind are; a ranch, preferably one that boasts hilly spots that will make a perfect backdrop for your wedding arch.
The scenery of the ranch will make a perfect canvas for all your western wedding decorations.
A farm, especially one with a nice barn would also be a nice place for your western theme wedding. There should be ample room to set up tents if required, or to set up tables and chairs in an outdoor setting. If you are planning an indoor wedding but still want the country western theme, a farm house, if large enough will be lovely and quaint.
Hot tip: If having your wedding outdoors, opt for long picnic tables and use bales of hay for seating. To keep guest clothing free from straw, top each bale with a long cushion, fabric or old-fashioned quilts.
Select Your Colors
As with any other wedding theme, the colors you select for your western wedding decorations are an important part of your planning. I suggest starting with a visual guide of your ideal western scenery.
Tear out magazine editorials or other visual aides that really convey the west to you. Create your palette using these visual aides.
There are also many online tools that are really helpful for choosing your color palette. One of my favorites is Colourlovers.com, which allows you to create and save your favorite colors and palettes from scratch or from images.
Choose Your Focal Elements
Western wedding decorations can be comprised of many things. Horseshoes, leather, hay and rope all evoke thoughts of the romantic western.
For your wedding decorations you'll want to choose one or two particular elements to focus on.
Make sure these elements can be found throughout your decorations, invitations and attire to really tie your theme together.
For example, if you'd like to focus on rope as the element you'd like to draw attention to, use it on your most high-profile items, like your wedding centerpieces or escort card tables.
Once you get started the ideas will flow more freely, and that's where things get fun! Use rope to drape between chairs down the aisle, instead of tulle at your ceremony. Choose invitations that feature a rope heart, or trim. Use a thin braid of rope to secure your wedding bouquet, and use the same rope as an accent in your boutonnieres. Once you've chosen a sub-theme to focus on, your western wedding decorations will be a snap to pull off.
Western Wedding Flowers
There are many beautiful flowers that are often associated with a country western theme. A favorite of brides everywhere are daisies. These bright and cheerful flowers will add a pop of color to your western wedding decorations and are fairly inexpensive. Another plus is that white daises can be placed in tinted water and take the color very well. This will provide a limitless array of colors and make it easy to match your floral centerpieces to your overall theme.
Sunflowers are another great choice. The large blooms will allow for more volume in your floral centerpieces if used with other flowers. They can also be used alone, try a single bloom in a colored glass bottle or pair yellow sunflowers with red gingham for a bright, summery look.
Add rooster feathers to your bouquet or floral centerpieces for a good bit of country flair. Pheasant feathers also work beautifully. These steps should help you get started in creating the western theme wedding of your dreams. If you are in need of even more ideas for your western wedding decorations, try the link below
more great ideas for western wedding decorations