Beach wedding decorations should compliment the beauty of the beach, to create a romantic, and magical wedding ceremony. A sandy beach is beautiful, but without a little decoration it really won't look like a wedding, will it? Before you decide on your beach wedding decorations there are a few things you will need to consider like time of day, theme and whether the reception will be held on the beach as well.
Finding the Perfect Location
If you live near the beach, you may already know of a perfect spot for your ceremony site. If not, you should take time to scope out beaches nearest you and talk with your beach going friends who will know the little nooks and cranny's only regular beach goers know. Make certain the beach site you choose allows for beach weddings to take place, and that it's okay for you to reserve a particular area. The time of day can have a big impact on the beach wedding decorations you choose. Remember that your guests will be out in the sun, so a sunset ceremony will be cooler and less bright. Nighttime is another fantastic option, and the right lighting can make it magical.
Get Ideas for your Hawaiian Wedding Theme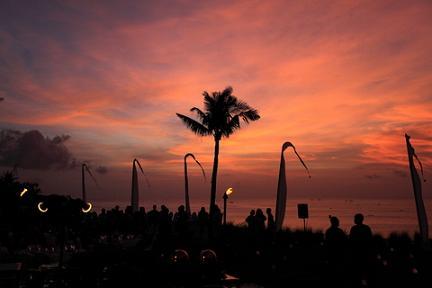 gorgeous sunset wedding
If a wedding that late isn't your cup of tea, but you must have a beach wedding, then be sure to consider a tent or umbrellas to shield your guests from the too much sunlight.
Use Natural Elements to hightlight the Beauty of the Beach
Sand is often the first thing that comes to mind when planning a beach theme wedding. If you are having the ceremony on the beach, you can use the sand in many creative ways. It makes a great filler for centerpieces and can be used in your aisle decorations as well.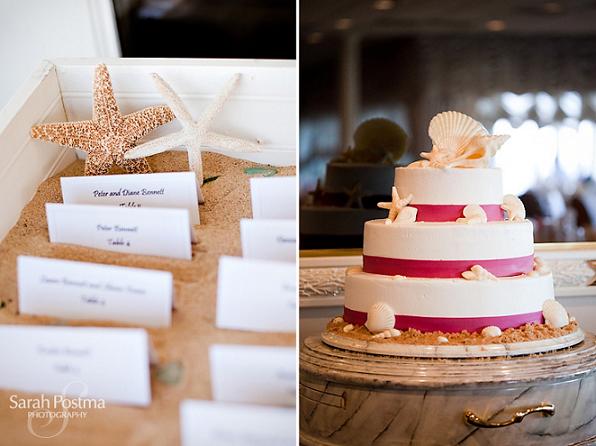 image via Sarah Postma Photography
Use colored or natural sand in vases, as a base for pillar candles. Once again, you'll get a very elegant and chic look without adding too much to your overall budget. You can use whatever size or shape vase you prefer, but be sure that a large pillar candle can be placed inside easily. If you can, flameless candles work really well, and give you lots less to worry about.
Looking for Something Different?
Another fantastic natural element to use for your beach wedding decorations is driftwood. No two pieces are the same, which make them a great choice for adding your own unique touch. Driftwood makes a lovely base for a bank of flowers on your wedding table centerpiece. You can also invert a piece of driftwood in a column vase, and add orchids for a simple and organic look.
Make Getting to the Site Easy
Once you have chosen the beach for your ceremony location, you will want to take a few steps to make the site easy for guests to get to and enjoy. To make sure that guests know exactly where your site is, especially if it is away from the beaten path a bit, try marking the way. Elements like Tiki torches, large rocks or sand-filled vases will work well. If your guests are going to walk through the sand to arrive at your site, you may want to provide a comfortable, but cute flip-flop or other type of sandal. You can often purchase these from dollar stores, ask the store manager to order the quantity you need, most will be happy to do so.
Planning a Seashell Theme Wedding?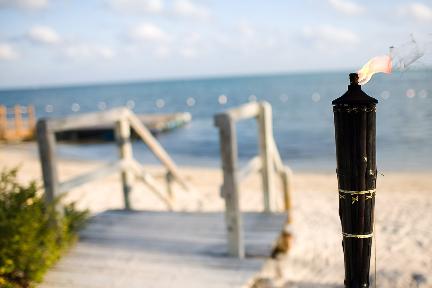 image via theweddingcouple.com
Is the parking near your ceremony site? The closer parking is the better for your guests. Be sure everyone knows where to park, signs if allowed are always helpful and can be posted in strategic places to keep your guests on the right track. Your beach wedding decorations will wow your guests and your ceremony will be romantic and beautiful if you follow these simple and easy steps. I hope you find decorating and planning your beach themed wedding, as fun and exciting as I do!