No matter your taste or the size of your budget, you really can create the style of Wedding Table Decor you've always invisioned for your wedding. Simple ideas can be simply beautiful, and I hope to help you find the right look for your wedding tables.
Will You Have a Theme?
Your Wedding Table Decor helps draw your guests into the atmosphere right away. You have to decide what kind of reception party you are planning so that your decorations will reflect that. Will this be a stylish and sleek party, or maybe you want something soft and romantic? The colors you choose will have a lot to do with creating the atmosphere you desire for your wedding reception. For instance, if you are planning on a romantic butterfly theme you may not want to use colors like hunter green and black. Just keep all these things in mind before choosing your Wedding Table Décor, so that it all makes sense to your guests.
Develop a Plan
Another import thing to consider before planning your table décor, is the shape and size of the tables you will be using. A centerpiece that looks great on a long rectangular table may not look right at all, at a big round table. Decide which shape you will use and get measurements. This will help you plan your tablescape. Also decide how your reception centerpieces will look. You will want to decide if they will be low or tall and how ornate or simple it will be. You should also have a good idea of which flowers you will use. Creating a demo or mock-up of the wedding table you have in mind, is always a good idea. Take pictures and get a second or third opinion if you like.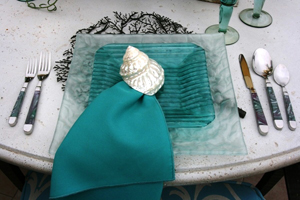 image via designtoshare.com
Simple Ideas for Adding Flair
Use Mirrors to make your reception centerpieces even more special. Round or square mirrors underneath your glass vase will add an extra dimension to the look. Candles add the wow factor. Surround your larger table centerpieces with votive candle holders. You can use different colors or shapes to make it more interesting. Use shallow containers filled with water to display floating candles. Accent the candles by floating petals or large elegant blooms alongside. Customize your table cards, or use unique table card holders, napkin rings or chargers. Details like these really make your table setting special.
Get more wedding table decor pictures and ideas...