Cheap wedding flowers don't have to look cheap. I've had to work with brides, who literally have almost NO budget for flowers.
I love helping brides find cheap wedding flowers that help to create a look above and beyond anything they thought they could do on their budget. It's so thrilling for me to help brides get excited about their wedding day by showing them how they can afford more flowers, for a better price than they'd ever dreamed.
Here's how to get the most for you dollar when shopping for cheap wedding flowers.
Buy flowers from the wholesale district in Downtown Los Angeles, which is where most L.A. designers shop for the choicest blooms.
The wholesale floral marts a spread over a couple city blocks, with the main concentrations being near 8th and San Pedro streets and spreading west to Maple Ave. The entrances on Wall Street and Maple require entrants to pay 1.00 unless you have a vendor badge which is 35.00 annually and requires a sellers permit. It's open to the public after 8 am.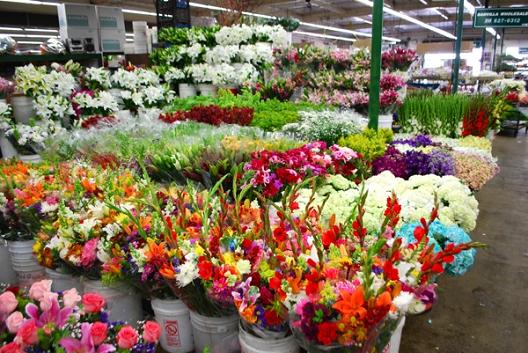 Once inside the paid area, be sure to shop around from stall to stall. Prices can and do vary, but there are a few vendors, like Shibata Floral, that are consistently lower priced than their neighbors. Shibata also operates a wholesale floral supply directly across the street which is amazing.
Around the corner from the major inside market are many small independent flower shops which I highly recommend for cheap wedding flowers, especially if you don't mind haggling a little with the shop owners a bit. Almost all the shops will not only sell you bulk flowers, but will also create almost any type of centerpiece you want. I've had the best luck with the designers on San Pedro, right before 8th Street and on Wall Street there is a little shop called Casa Blanca that does rentals as well.
Some cheap wedding flowers for you to consider.
Carnations are one of the more inexpensive flowers you can use for your wedding, but they aren't always a favorite of modern brides who have heard negative things about them for years, especially in regard to using them as wedding flowers. But depending on how you use them, they can really be great.
I recommend them especially for topiary designs and pave designs as well.
They are available in a dozen colors or more, and take floral dye very well.
They are hardy little flowers, easy to prep and store for use on your big day.
My other favorite cheap wedding flowers are Peruvian lilies. These are small flowers which sort of resemble miniature Iris. They are available in white, pink and yellow all with a striped pattern and long stems. They come in bunches, which typically price at 4.50-6.00 wholesale.
For more tropical flowers that fit your wedding budget, try cheap wedding flowers like Birds of Paradise or Proteas. They are nice and big and take up lots of room in your centerpieces so you don't need too many. Bonus!
Get more ideas for wedding flowers
Get Ideas for Your Wedding Flower Arrangements
Return to home from cheap wedding flowers