Butterfly wedding decorations can be amazingly romantic. You can choose to keep it simple or over the top, it's all up to you. You can decorate your tables, your chairs or add them to your floral centerpieces. This theme is very versatile and there is always opportunity to do something unique.
Endless color options
You can go with a monochromatic color palette or a bright mix. There really is no limit to your options. Butterflies speak to fun and whimsy, so allow yourself the freedom to be creative.
Let the seasons inspire you. The orange, black and yellow of the Monarch is the perfect color palette for autumn wedding decorations.
You could also use bright yellow butterflies, with black spotted wings and construct your color palette using that as inspiration. If you visit any good party supply or florist wholesale supply, there will be a variety of choices for creating your theme. For a Spring or Summer wedding, there will be an abundance of color and most will be available in any size you need.
A couple of fun ways to achieve the look…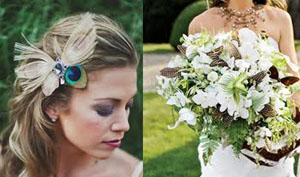 Use feather or nylon versions of decorative butterflies on your wedding arch. Use floral mesh to cover the arch first, then glue them on every foot or so all along the arch. You can also use ribbon to make it extra special, and give your butterfly wedding design more volume.
Make a natural looking escort card holder using a piece of bark, paper butterflies serve as your escort cards, and viola! A fantastic butterfly wedding look. Simply slit the bark to allow the card to be inserted and place them in rows on your receiving table.
You can even achieve a simple and elegant look by adding butterflies to your wedding bouquet. There is no more natural place for the butterflies than amongst flowers, and they will look absolutely beautiful. It won't be hard to find artificial butterflies to match the color of your flowers.
Get gorgeous butterfly wedding decorations and favors, to complete your theme!