Choosing bridal flowers can be intimidating. With all eyes on you, on your special day, every little detail must be perfect. Not only are all your guests going to be seeing your choice of flowers live and in person, but there will also be plenty of pictures featuring this special bouquet. Why not get a little help picking out the perfect bridal flowers for you? You will discover the many options you have to choose from, and narrow down which flowers will make the perfect bouquet for you.
Choosing a Florist
With everything else you have going on planning your wedding, choosing your bouquet should be made as simple as possible. When you finally arrive at the florist you will be prepared and well informed, and you will have a solid idea of the specific type of bridal flowers you want as well as what to expect in terms of cost. How do I know this? Well you are here, and you are already gathering information to help you pick a beautiful bouquet. In terms of what particular elements are most important, I've listed a few things to consider when you are ready to choose your bridal flowers..
Popular Types of Bouquets
Do you have a particular style of bouquet in mind? Some types of bridal bouquets are more popular than others, but I've included a few of the most popular styles for you to get started making your choice.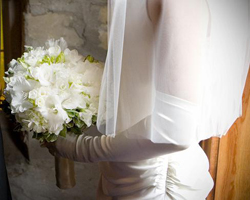 Round Bridal Bouquets
The round bouquet is an absolute favorite among many brides, and it's a completely versatile look. You can go pretty large with this type of bouquet, and classic flowers like roses or paperwhites work well. A popular trend for the round bouquet is to embellish the center of your flowers with crystals or pearls. Don't forget to add a little sass to your stems by wrapping them with lovely fabric, ribbon or trim.
Cascade Wedding Bouquets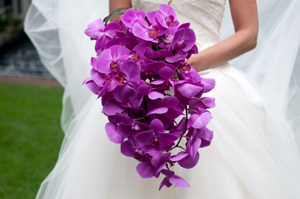 image
This a classic and beautiful arrangement that is designed to be full at the top and gently taper down to a point at the bottom. This type of bouquet is also called a waterfall bouquet and has been the choice of many brides for decades. Choose this style for more formal weddings. It can be constructed using nearly any type of flower, and can be as dense or wispy as you like. If you desire a large and detailed, arrangement the Cascade may be the choice for you, but watch out, you will have to pay accordingly. Bridal flowers can be quite pricey, so it best to look into another style if you are on a tight budget.
Heart Shaped Bouquets
A shape for the romantic bride, the heart shape arrangement is perfect for a fairy tale theme wedding and will make quite a statement at your wedding. Ask your florist is they have experience with this style of bouquet beforehand. If you'd like to try creating it yourself, try arching two bouquets together on each side and having them taper down to a point forming the heart shape. Use flexible flowers with long stems to avoid breakage.
Arm Sheath Bouquets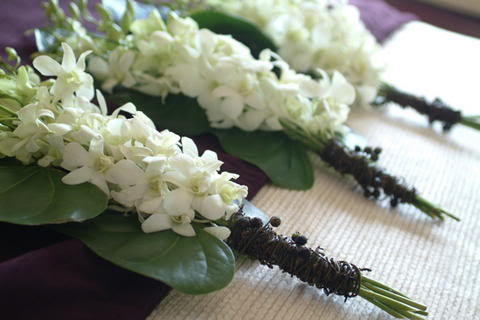 image
The arm sheaf is a stunning alternative to more traditional styles of bouquets, is very chic, and well suited for anything from country themed weddings to a more modern ceremony. The bouquet should be tastefully designed to be cradled in the bride's arm and can be as simple or fancy as you like.
An arm sheaf bouquet can single-ended, with stems showing at one end, or double-ended with no stems showing. Accent your bouquet with a gorgeous ribbon which provides the finishing touch. Popular floral choices for arm bouquets are calla lilies, gladiolus, orchids, and long-stemmed roses, so consider this factor in your choice, since it will affect the price.
Nosegay Bouquets
For a cute and romantic bouquet, try a smaller version of the traditional round version, the Nosegay. These darling little arrangements are perfect for the bride looking for beauty on a budget, or for other wedding flowers like bridesmaids, or flower girl bouquets. The arrangement of flowers should be symmetrical and the stems should be long, but not long enough to ruin the balance of the blooms. For added beauty wrap your stems at the bottom with ribbon, fabric or jeweled trim of your choice, and can be composed of any type of flower you desire. This is a wonderfully simple and universal choice of bridal flowers.