If you need ideas for your Asian wedding decorations, there are a few things you will need to know to really pull this look off with flair. Your wedding decorations theme will be centered around a diverse culture, so narrow down your choices. You'll want to do a little planning in advance to know how much you want to spend, and how much of everything you will need. You can go trendy or traditional with this theme, it's all up to you!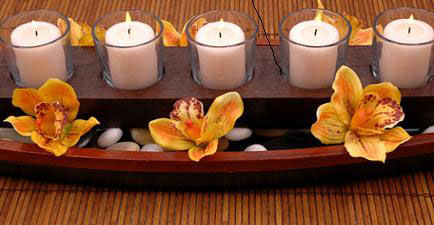 First decide exactly which type of Asian wedding you really want. For some, the idea of Asian wedding decorations means those inspired by Chinese culture.
However, there are many cultures all throughout Asia, and you may want to try a theme influenced by India, Japan or Singapore instead. Each culture will provide a ton of ideas for colors, flowers, designs and that mysterious Asian mystique.
Once you decide which specific Asian flavor you adore, you will be able to choose the more specific elements of your overall design, like flowers, linens and centerpieces.
The next step in planning your Asian wedding decorations will be creating a plan for your ceremony decor, your wedding reception decoration and bridal wear. You can go as simple or elaborate as you would like, this will depend greatly on your own personal taste, budget and the site of your ceremony and reception.
Shopping for your Asian Wedding Decorations
If you live in a big city, then shopping for your wedding decorations should be a snap. However, it gets a little trickier to find just what you need, if you live in a smaller town. Fortunately there are amazing sites online, like E-bay, and Amazon, that bring the best shopping to you. Shop around for free shipping. The difference in cost can be significant. Having an idea of what you'd like will help, the more you can buy from one store, the bigger discounts you can often get.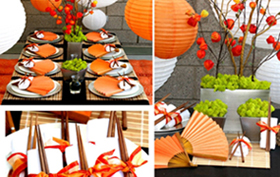 image via Bride.net
Doing it yourself? How Much time and Effort are required?
An Asian wedding theme doesn't have to be complicated to look elegant and sophisticated. There are many ways to execute the look without it requiring tremendous amounts of your valuable time and energy.
You will have enough to do on the big day, and the easier your decorations are to do, the more time you will have for yourself on that day. Do as much as you can in advance and pack it away, labeling your boxes so they are ready to be unpacked onsite. Be sure to inventory all your decorations and supplies, pack the inventory list along with your decorations, on top where you can find it.